Water is one Mother Natures strongest forces responsible for billions of dollars a year in damages around the country. Here in Orange County New York, part of the Hudson Valley region. we experience a full four seasons with a variety of precipitation throughout the year. Heavy rains and melting snows can leave our homes and properties a wet disaster. The geography of Orange County, NY is mostly made up of mountains and low lying valleys that make for unique weather at times. Weather systems we experience can be hard to predict at times especially due to the differences in atmospheric pressures at different elevations. Fast moving storms have the potential of heavy rains in a short duration of time causing runoff to be a concern while melting winter snows combined with spring rains cause ground water tables to rise. When runoff and ground waters combine, we experience hydrostatic pressure buildup which can potentially cause structural damage to you foundation and water infiltration into your basement.
The water cycle is a unique system of recycling water throughout our ecosystem responsible for all organisms to sustain life on earth. It is essential for all homes to have some sort of drainage component to keep water from permeating into your basement, especially footing drains. Footing Drains are required by code for all homes built to keep all water, mostly ground water, moving away from your foundation. Hydrostatic pressure refers to water buildup around foundation walls and is a major cause of basement water problems. Water weighs slightly more that 60lbs per cubic foot. When the soils around your foundation walls become saturated with water , there could be tens of thousands of pounds of hydrostatic pressure buildup against your foundation. Excessive amounts of hydrostatic pressure could cause extreme damage and complete failure to the integrity of your home. In many cases damage goes unnoticed for years, especially in finished basements where foundation walls are hidden and water seepage cannot be detected visually.
Besides structural damages, toxic mold and mildew from permeating water can grow at a rapid rate. All basements render the perfect atmosphere for mold and mildew to spawn due to the moist natural environment they create, Installing a dehumidifier or Egress Window can greatly help in controlling high moisture in your basement.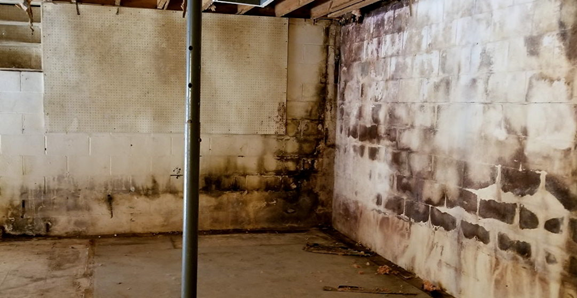 10 Signs of hydrostatic pressure in your home:
Musty odors in basement
Spotting different forms of bugs such as earwigs, carpenter ants, centipedes, pillbugs..... They are a good indicator that you may have cracks in your foundation.
Cracks, big or small, are the most noticeable signs that you may have a foundation issue. Odds are your home is being effected by pressure.
Foundation walls buckling or bowing, now is the time to act fast. The integrity of your structure may be at stake.
Visible water and/or moisture corners where concrete floor meets foundation wall.
Water and/or moisture permeating through foundation walls and/or cracks
Visible water and/or moisture infiltrating through concrete floor.
Visible mold and mildew on foundation walls.
Evidence of rotting support columns.
Basement window wells that fill with water.
Different waterproofing drainage solutions for your basement/property:
Footing Drains:
Footing drains are a major component for any home when it comes to removing unwanted water that causes hydrostatic pressure buildup. National Residential Building Codes require all homes built to have footing drains installed. Properly installed footing drains with adequate pitch and generous amounts of aggregate applied around pipes will keep water moving freely. Keeping water pressure from building up is crucial for a dry basement. When footing drains are installed, it is also required to apply foundation coating to exterior of foundation walls and encase aggregate with filter fabric. Four inch corrugated pipes must drain out to daylight or a sewer drain. Properties without sufficient grade to drain elsewhere may need installation of a Dry Well to transport liquids to dissipate back into the ground.
Curtain Drains:
Curtain drains are essentially in ground gutter systems used for containing and removing unwanted water around your home and property. Trenches are excavated usually around 18-24 inches deep and in some cases next to homes with excessive water can be dug as deep as the foundations footings. Standard installation procedures include excavation of a trench to proper grade and pitch, lining of filter fabric, installation of 4" corrugated pipe and trench filled with aggregate. Drains must discharged, like footing drains, to daylight, sewer drain or a dry well.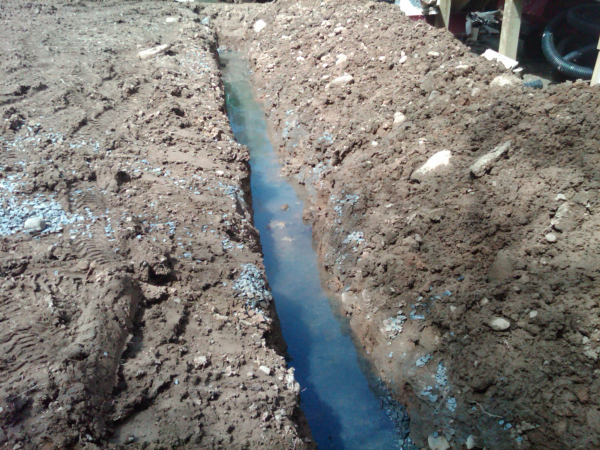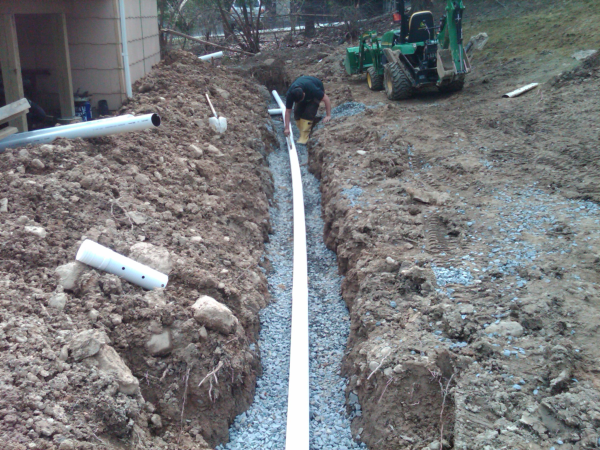 Swales:
Swales make a great drainage component for containing water runoff onto your property, Basically an excavated trough, angled down to a divot that contains and removed water efficiently. When excavated, swales can be left for natural grass/swamp grass to grow or lined with filter fabric and riverstone applied. Swales have been used for centuries along rural roads and properties to contain runoff and storm waters. Also a common practice for farmers used to irrigate crops.
Sump Pumps:
Installation of a sump pump for a wet basement is very effective in removing unwanted water. Installed in your concrete floor using a sump pump basin and high flow pump, sump pumps help relieve hydrostatic pressure before reaching high levels. Ground water tables can rise dramatically especially noticeable after heavy winter snows that combine with spring rains. Orange County, NY is also well known for severe thunderstorms and occasional hurricanes that can bring strong systems to the area with high liquid equivalents. A battery backup and/or generator may be a good investment for your sump pump in the case of an electrical outage. Sump pumps may also be used in conjunction with interior French drain systems. As water flows into sump pump basin. pump is engaged by a float switch that activates when water has reached a set level and removes water quickly from basement to be discharged outside.
Gutter Downspouts:
Gutters are found on most homes to remove waters from roof and into downspouts that discharge liquids away from the home. After water is collected, it is the job of the downspout to discard water quickly and efficiently. If gutters and downspouts are clogged, obviously their function is compromised. Gutters and downspouts should be clean inspected at least once a year in fall after leaves have fallen. Before winter is a good time to inspect roof for any potential leaks or any evidence that may render a new roof installation.
Dry Wells:
Dry well are used for containing water diverted from another source such as drainage systems or grey water. In footing drains, curtain drains and/or gutter downspouts, dry wells may be used if you do not have enough grade on property to relieve water to daylight. Other applications may be for diverting grey water from laundry and/or slop sinks to avoid contamination of your septic system if you have one. Heavy laundry detergents kill off good bacteria needed to maintain a healthy ecosystem in you septic system allowing solids to breakdown properly. Waters are routed to the dry well where they will permeate back into the soils.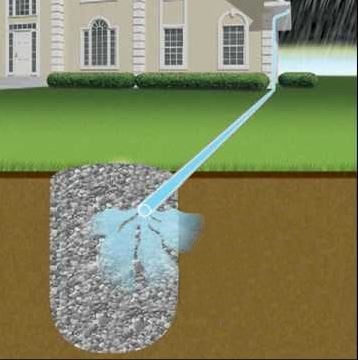 Drylok:
Drylok is an interior application for coating interior foundation walls when moisture is evident. Block and cinder block walls are more porous than poured foundation walls but Drylok is always a recommended application for either especially before finishing a basement. Product claims to stop water pressure up to 15 psi which is nominal to the pressure buildup that can occur outside of your foundation walls. Recommended is two generous coats filling in all voids and holes. Cracks will be needed to be filled in preferably with hydraulic cement prior to applying Drylok.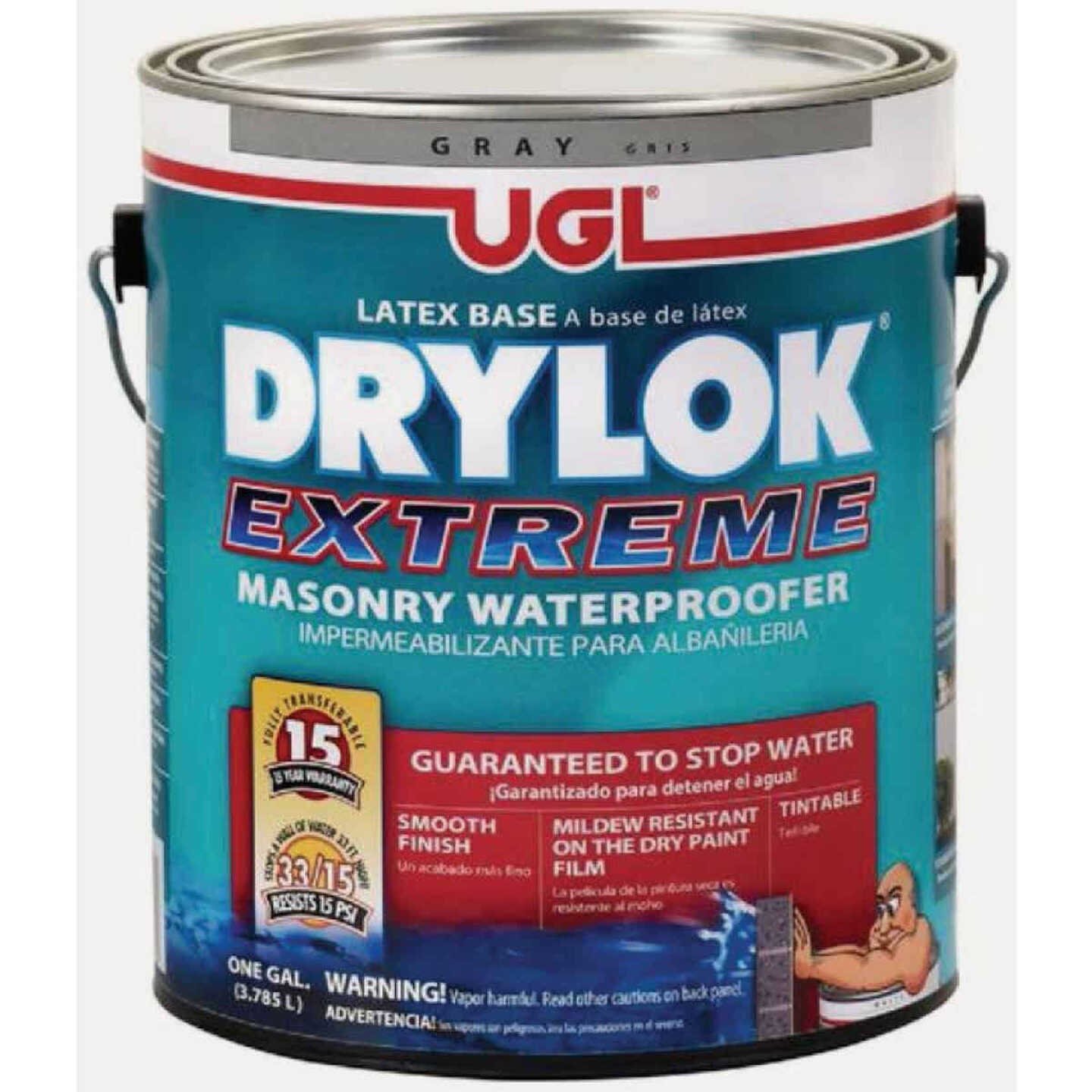 Protecting your home and property from heavy weather systems can give you peace in mind for when these variety of systems hit. Your home may be one of your largest investments and maintaining and building equity with a well equipped drainage system will help before damage is too late.