The bathroom(s) in your home is probably the most frequented room in your house. Mornings, nights, rainy days, stiff aches and pains; the bathroom is the area of your home to relax, feel revived and take care of everyday hygiene for both you and your family. Creating a breath taking atmosphere within your bathroom will create many years of happiness for you and your family. Imagine the benefits of a new bathroom remodel that creates a complete surreal enviroment!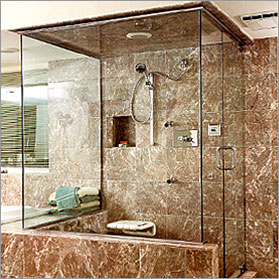 Debating your bathroom remodeling project? Well, there are definitely pros and cons to remodeling your bathroom; however, in most cases you'll probably find that the benefits of bathroom remodeling outweigh the cons. Both you and your home can benefit from a remodeling project on the bathroom. Here is a look at a few of the benefits that can be enjoyed when you decide to remodel your bathroom.


Benefit #1 - Increase in Home Value - Probably one of the biggest benefits you'll enjoy when you remodel the bathroom in your home is an increase in the home value. When you remodel the bathroom, you end up with an even better home, and larger remodeling projects can really make a difference in the amount that your home is worth. However, if you don't do the project the right way or you don't finish it, the value will actually go down, so you want to make sure that the bathroom remodel is done the right way so you can enjoy the increase in your home's value.

Benefit #2 - Improve the Bathroom's Appearance - Another benefit of remodeling the bathroom in your home is improving the bathroom's appearance. Perhaps your bathroom didn't look to great in the past or it was starting to have repair problems. When your remodel, the entire bathroom will look so much better. You'll be able to go into the bathroom and enjoy the way that it looks. Since the bathroom looks even better, it will actually help your entire home to look better as well.

Benefit #3 - Better Use of Space - In many cases, bathrooms are too crowded, especially if you have a smaller bathroom. When you remodel, you can benefit from a better use of space in the bathroom. There are new furniture and fixture choices today that look great and take up less room, so you can make the best out of the space that you have in the bathroom.

Benefit #4 - Create a Place for Relaxation - Yet another benefit you can get when remodeling your bathroom is creating a place for relaxation. Remodeling gives you the ability to go beyond just function in the bathroom. You can turn it into a retreat that you can enjoy each day. With the right fixtures, décor, and a great tub, your bathroom can become one of the best places to relax and sooth away the stress of the day.