You are looking to build new deck but you may be confused about what type of material to use. This is a very common question that customers ask me all the time. Cedar, pressure treated and composite will all create a beautiful finished product in the end. It mostly boils down to the customer. If you like the look and feel of wood and don't mind a little maintenance over the years, wood is for you. If maintenance free is on your mind, composite is for you.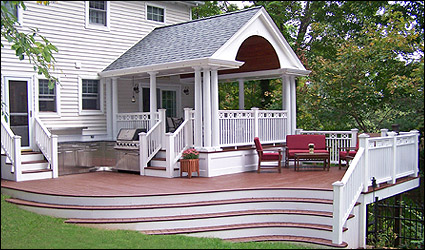 The pros and cons of cedar decking:
If the natural look of wood is tops on your list, use cedar. The heartwood of the tree (the deeper colored red part, not the white sap part) is rot resistant. Cedar doesn't readily absorb moisture— and, since moisture is what creates twisting and splitting, cedar decking tends to lie flat and straight. Most carpenters figure a lifespan of 15 to 20 years for cedar deck boards, but it can deteriorate faster when used for ground-level decks
and for shaded decks that are slow to dry out.
To retain the color, you have to clean it and reseal it every year or two, and even then it's a losing battle. I've never seen a 10-year-old cedar deck that still had that warm, rich look of new wood. Cedar is also soft; when used for stairs or for decks where furniture gets dragged around a lot, the edges in particular can get beat up. Finally, the cost of the cedar is moderate, more than pressure-treated but somewhat less than composite.
The pros and cons of pressure-treated decking:
If economy and longevity are your bag, go with pressure-treated wood. It's stainable, hard enough to resist abuse, and many brands carry a lifetime (though limited) warranty. But beware, not all treated woods are created equal. The standard treated decking at my local lumberyard costs less than cedar. But inexpensive treated wood is often full of moisture and will shrink unevenly and twist when it dries. One homeowner told me, "Yeah, my treated deck may last forever—but it's going to look BAD forever too."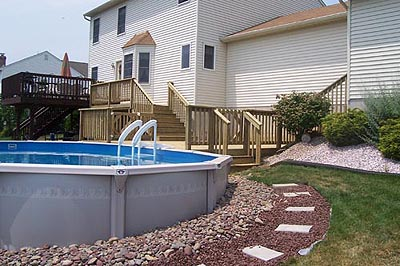 We suggest you buy "choice," "premium" or "select" treated boards. At about 40 percent more per linear foot, you'll pay more, but the boards have fewer knots and straighter grain. And, since many of the higher grade choices are kiln-dried both before and after pressure treatment, they have less tendency to warp.
The pros and cons of composite decking:
If near-zero maintenance is your goal, buy composite decking. Most is made from recycled plastic and wood chips or sawdust. It's more expensive than cedar, but once it's down, it won't rot, splinter or twist. The color change is even (though in shady, damp areas it can turn dark, like the example in the photo). You can even stain most types after four to six months. Since the material is defect free, you can use every inch. Maintenance involves spraying it off with a hose. Some people don't like the look of the stuff and it's cold on bare feet. But if you want to relax on your deck instead of work on it, bite the bullet and spend the extra cash.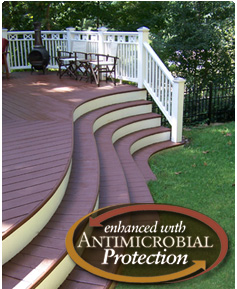 WMB Construction specializes in all forms of deck construction. We will work with you to find a deck that fits your budget and life style.
Raised decks

Ground level decks

Pool decks

Deck extensions

Pergolas

Tiered decks

Powerwashing

Deck painting and staining