Here in Orange County, NY we experience all forms of weather systems year round that impact our area in various different ways. Part of the Tri-State area which includes New York, New Jersey and Connecticut, we have a true four season location. Known for our unique geography of mountains and low lying valleys, plentiful with lakes, streams and rivers plus vast woodlands make for a tranquil environment to live. Situated within close distance to the Atlantic Ocean and many different water outlets make it desirable to beach dwellers and boaters while campers and hikers can enjoy the beautiful countryside. Within a few hours you can visit the Great Lakes Region and even go into Canada or go to one of the many surrounding cities, especially New York City. The topography of our area is absolutely wonderful and gorgeous but we are also surrounded by vast bodies of water. These bodies of water can create extreme amounts of moisture in the atmosphere and can result in a plethora of weather systems year round.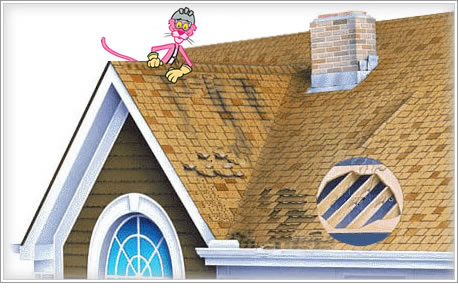 Your roof is one of the main components of your home when it comes to protecting you and your loved ones from the harsh elements. From harsh winter snows to heavy spring rains and summer thunderstorms, your roof needs to be ready to efficiently shed water away from your home rapidly. With installation of a new roof will provide you with many years of protection.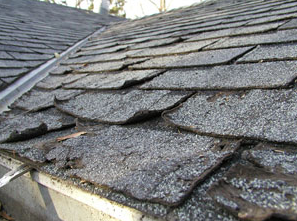 Signs you may need a new roof installation:
Roof shingles visibly buckling

Soft spots on roof decking

Leaking water through roof shingles

Ice damming backing up

Insufficient roof ventilation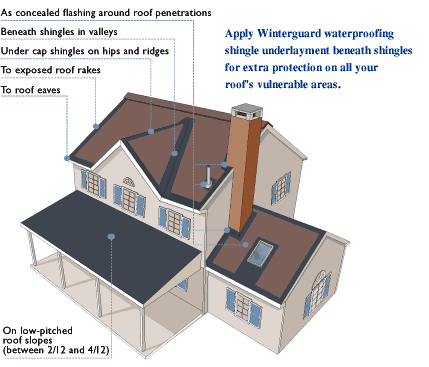 A properly installed roof requires more than just installing roof shingles on your roof decking. First off a clean, solid roof deck needs to be in place prior to any installation of roofing components. A poor roof deck will comprise the integrity and longevity of your new roof installation. Once existing roof shingles have been stripped down to existing roof decking, cleaned thoroughly and inspected for any potential damages, installation can begin. For new roofs the same procedure is performed minus the removal of existing shingles.
Components of new roof installation:
Ice and water shield installed on eaves of roof deck(code 3ft in from exterior wall)

Ice and water shield installed in valleys and under flashings

ice and water shield installed on roof rake ends of roof deck(not required by code)

New vent boots around existing vent lines

Aluminum drip edge around perimeter of all edges of roof

Vapor barrier paper installed on entire roof deck minus ares where ice and water shield has been installed

Attic fan(not code but can be added)

Installation of roof shingles(most commonly used is 30 year architectural shingle)

Installation of ridge vent
Most common roof shingle on the market has become the popular 30 year architectural shingle which provides superior performance and enhanced esthetic appearance compared to the original three tab roof. Three tab roof shingles are still available and used at a slightly lower cost than architectural but perform at about half when it comes to wind ratings. Architectural shingles create a much nicer curb appeal due to the 3D appearance and with that a much thicker and durable shingle. In some cases where existing shingles are installed, architectural shingles may be installed over existing roof in areas where codes allow. (Not code or recommended for roofs with two layers in place already) Three tab shingles may also be used in re-roofing but not advised as architectural shingles are heavier and lay flatter.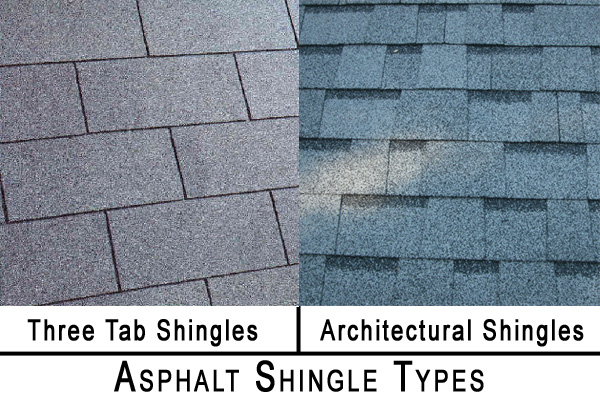 Longevity and efficiency for your home/roof relies on adequate ventilation and attic insulation for proper air flow and controlled heat/moisture throughout your attic. Inadequate attic ventilation allows stagnant air to buildup. Extreme summer heat can cause dry rot and potentially damage to air conditioning units due to overworking in high temperatures especially with lack of fresh air movement. Higher heat with no ventilation will shorten the lifespan of your roof. During winter heat loss becomes an issue due to inadequate insulation that may lead to ice damming. Ice damming occurs during the winter months with snow buildup that backs up under your shingles during the freeze and thaw process. Ice damming is very common in the northeast and can cause potential water damage.
5 Different types of roof ventilation installs:
Ridge vents installed at top peaks of roof

Soffit vents installed under soffits

Gable vents installed on gable ends of roof peaks

Attic fan(s) installed in roof powered by electric or solar and activated by a thermostat

House fan installed that brings fresh air from outside into living areas of home and into attic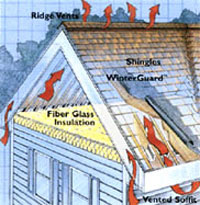 On most any roof you will have a gutter system installed for removing water off of roof and away from the home. Some areas that receive excessive snowfall amounts may opt out to leave gutters off to prevent ice damming. The roof of your home removes tremendous amounts of liquid due to the square footage that collects and needs to be discarded efficiently. Without roof gutter systems water may collect around your foundation and possibly cause water infiltration into your basement. During end of winter with melting snows followed by heavy spring rains the ground water tables rise fast creating hydrostatic pressure buildup which could cause damage to your foundation. Adding extra unwanted roof water to ground water increases pressure dramatically causing your homes Footing Drains to work harder to remove water. When possible it is strongly recommended to extend downspouts away from your home to excrete water away.
Most new roof replacements can be performed in one day considering size and condition of roof decking when shingles have been removed. Added protection and value to for your home may be to look into the installation of an Egress Window