Here in Orange County NY, just north of New York City, we can experience many different forms of weather systems. Many areas located just out of the city have higher elevations combined with low lying valleys that make for interesting unpredictable weather at times. During these times potential systems can impact our homes and properties drastically when it comes to moisture systems. Here in New York we experience a full four seasons with a variety of different weather conditions. These conditions range from potential blizzards, thunderstorms, heavy rains and at times even a hurricane. Now, it's not all doom and gloom when talking about New York as most of the time the weather is beautiful, especially with all the changing seasons. Keeping your home and property protected with proper drainage solutions will leave you with now worries and have peace in mind when inclement weather strikes.
Water is one Mother Natures strongest forces responsible for trillions of dollars in damages and disrepair around the world each year. During potentially heavy downpours, especially after heavy melting winter snows are combined with rain, water tables rise drastically along with increased hydrostatic pressures. Low lying homes in valleys or on a mountainside, runoff can be of concern. Massive amounts of water can be produced during this time frame causing basements and properties to flood. There are solutions for your water issues and some may require excavation, but diverting water away is key to a dry basement.
Water buildup occurs from excessive rainfall and heavy snow melts increasing ground water tables and return resulting in hydrostatic pressure. Hydrostatic pressure refers to water pressure buildup and is a major cause of basement water problems. Water weighs slightly more than 60lbs. per cubic foot. When the soil around your foundation is saturated with water, there can be tens of thousands of pounds of hydrostatic pressure buildup against your foundation. Required for every home built, footing drains are the most effective drainage component in relieving hydrostatic pressure. Buildup occurs during times where high ground water tables reach levels where oversaturated soils cannot dissipate water at an adequate rate.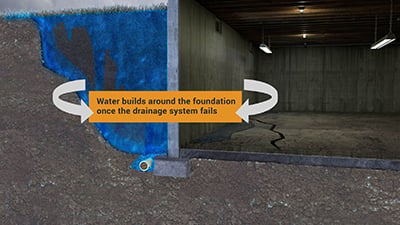 Hydrostatic pressure buildup can be extremely harmful to your homes main structure, the foundation, causing damage to the integrity of your entire structure. Water infiltration into your basement can cause massive damage, plus most all basements have the perfect ecosystem for the rapid growth of toxic mold and mildew to spore. Due to the natural environment of basements, moisture and humidity are always a concern to control. Installation of egress windows and dehumidifiers can help lower moisture levels in any basement creating better airflow.
Signs of hydrostatic pressure in your basement:
Bowing walls with horizontal cracks and water seepage
Water infiltration where your basement floor meets the foundation wall
Water near basement windows and/or window wells
Deteriorated basement foundation walls
Musty smell in basement
Visual evidence of water seepage on foundation walls
Visible water seepage on cracks of basement floor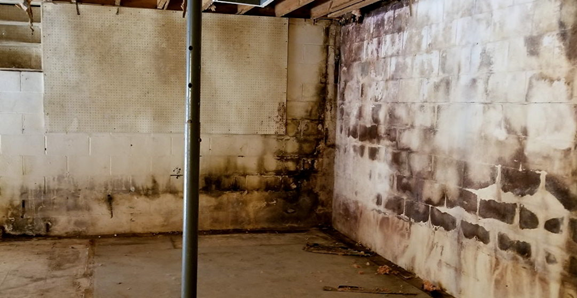 Unfinished basements will be easier to determine if you have a problem as opposed to a finished basement. Finished basements may hide problems for many years before discovering the immense damage that has occurred. Hidden behind your walls spawns the perfect environment for toxic mold and mildew to grow rampant that can lead to potential health ailments impacting your entire family. Not only water issues in your basement can contribute to these issues, your roof is another major main component in protecting your home from water damage.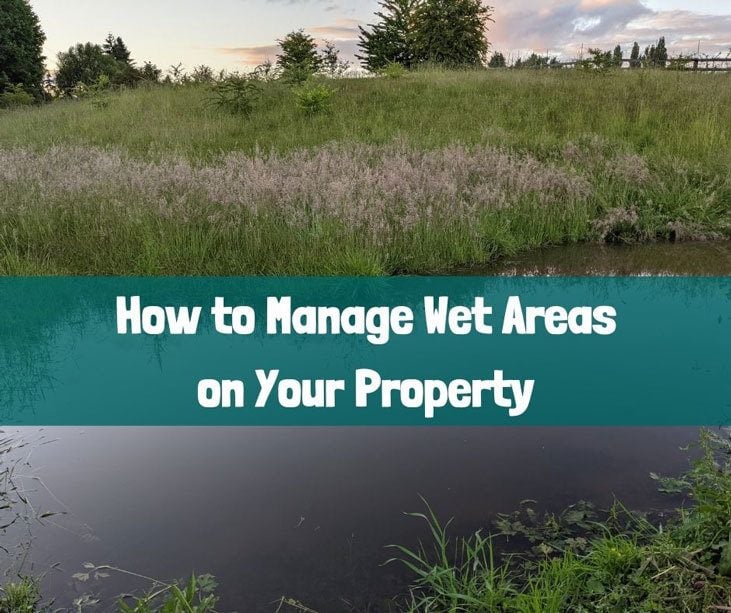 Different drainage solution applications for your home and property
Footing drains
Footing drains are required for all homes constructed for removal of unwanted water from your foundation walls and footings. Without the installation of footing drains, you can potentially run the high of water infiltration and structural damage to your most important structural component, your foundation. As ground water tables rise combined with runoff, soils quickly become saturated, leading to high levels of hydrostatic pressure buildup. Pressure buildup against your foundation wall can reach as high as 33,000 psi. Relieving this pressure is essential in maintaining the integrity of your home and prevent water infiltration that can be responsible for thousands of dollars in water damage repairs. Most visible indications of a failing footing drain is evidence of water and/or moisture in corners where foundation meets basement floor. In order to replace footing drains excavation is a must from the exterior of your foundation down to the footing. Best application is to have footing drains discharge unwanted water out to daylight. This all depends on your properties topography and grade in coordination with the home. If grade is not sufficient, a dry well may need to be added on property to contain unwanted water to dissipate back into the soil.
Curtain Drain
Curtain drains are essentially an in ground gutter system used for removing unwanted water near home or low lying areas on property with standing water. These drainage systems may also contain runoff water that discharges of a hillside into your property and/or home. Excavated down usually 18-24 inches, these trenches are effective in catching and removing water effectively. Installed with corrugated pipe, filter fabric and aggregate, water runs freely away from your home. In extreme cases where water tables are high and flooding in basement is of constant concern, curtain drain mat be dug the depth of the footing drains and work in conjunction together. In general, adding a curtain drain is a fast solution for wet areas throughout your property.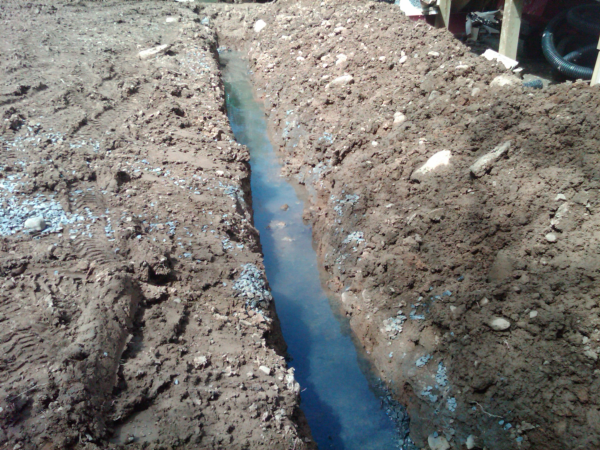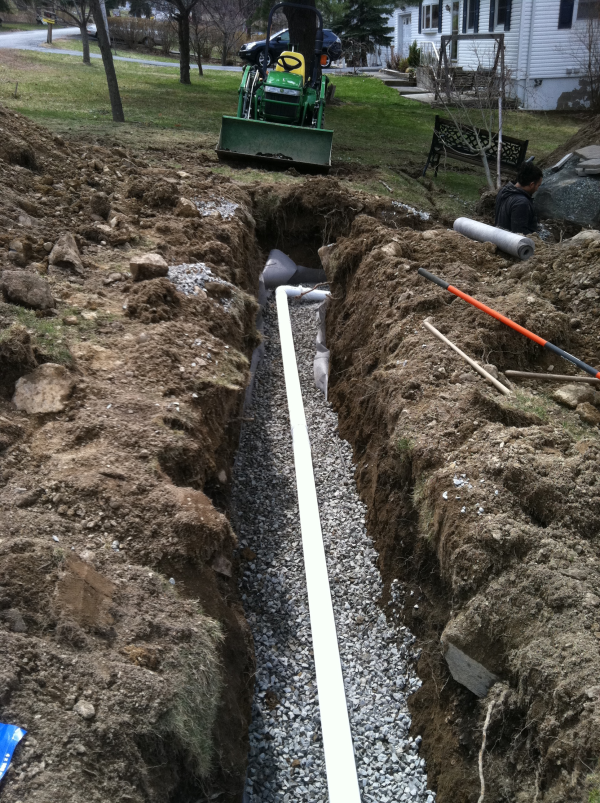 Swales
Swales are excavated troughs down to a divot to contain and divert water efficiently from runoff or at the base of a hillside. They are most commonly used for stormwaters that are used along rural highways and residential streets to convey runoff. Width of trench is excavated sloped at each end allowing water to flow down the the base. Swales can be left natural after excavation for grass of swamp grass to grow or lined with filter fabric and lined with river rock or rip-rap. A fast solution for wet properties especially with high rates of water runoff.
Sump pumps
Sump pumps are a great solution for removing water that has protruded into your basement. As ground waters rise and hydrostatic pressure increases water will usually infiltrate to the point of least resistance. A sump pump can help relieve this pressure before causing major damage. A sump pump basin is installed into your basements floor using a high flow pump to remove unwanted water quickly. Sumps pumps work off a float switch that activate when water rises to a set level and sufficiently excretes water outside of your home. Other systems can also be incorporated with pump such as French drains and minimal amounts grey water if necessary.
Dry wells
Dry well are used for containing water diverted from another source such as drainage systems or grey water. In footing drains, curtain drains and/or gutter downspouts, dry wells may be used if you do not have enough grade on property to relieve water to daylight. Other applications may be for diverting grey water from laundry and/or slop sinks to avoid contamination of your septic system if you have one. Heavy laundry detergents kill off good bacteria needed to maintain a healthy ecosystem in you septic system allowing solids to breakdown properly. Waters are routed to the dry well where they will permeate back into the soils.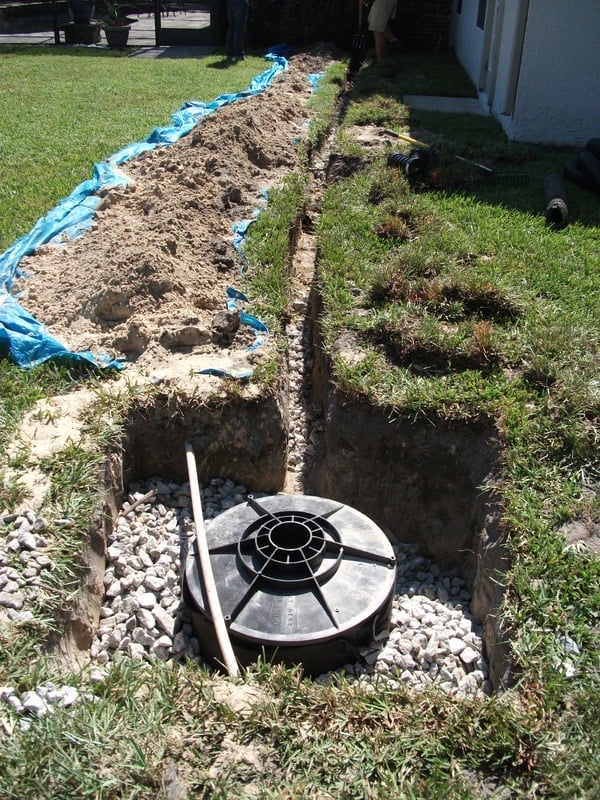 Gutter downspouts
During heavy rains and snows, your roof per square footage handles extreme amounts of liquids in which is quickly diverted into your gutters. Liquids from your gutters then become the job of the downspouts to remove water quickly to ground level. Most downspouts discharge right at ground level right on your foundation walls leaving excessive amounts of water to pool and possibly permeate into your foundation. A simple extension can fix or the best way is to run downspouts into a solid underground line to divert water away from the home.