Dry wells are essentially excavated pits with adequate amounts of aggregate to catch unwanted water on your property. This usually consists of water from your home gutter downspouts, footing drains, runoff, curtain drains and sump pumps. Other applications may be used for grey water from your home washing machine or sinks to isolate excess water contaminated by detergents that flow into your septic tank and leach fields. Many detergents can be harmful to your septic system and kill off good bacteria needed to break down solid wastes and powdered detergents have been known to not fully dissolve and clog leach fields not allowing water to properly flow and dissipate into the soil. In drainage situations, dry wells are a great solution on properties where water needs to be transferred to a different location but doesn't have sufficient grade on property to relieve water piped to daylight.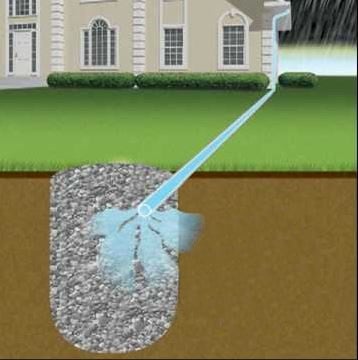 Dry wells can simply be a large pit filled with aggregate for a fast, simple solution. For longevity and a fuly functioning dry well system, it is advised to install an in ground corrugated dry well basin piped solid to a basin. Then filter fabric is installed around pit/basin with adequate amounts of aggregate applied around basin. Before installing a dry well, a perc test may be necessary in some municipalities to determine the rate of water percolation that dissipates into your soil. Dry well perc tests aren't as necessary as septic systems and leach fields as they are mainly for ground/rain/grey water applications. They can be easily performed by anyone including the homeowner. A small pit needs to be dug and filled with water while timed to see how fast water dissipates. This test should be performed under dry conditions, tested dry and after soil has been saturated. Soil containing high densities of clay and shale will not allow water to percolate into the ground at a fast rate which will indicate that more aggregate will be needed during installation.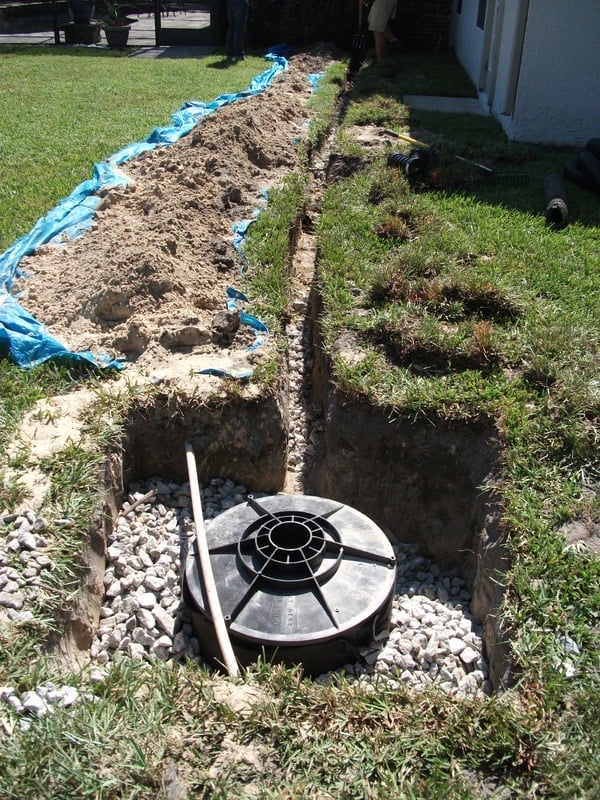 5 Reasons you may need a dry well installed:
Removing unwanted water pooling on property with nowhere to drain

Removing water from gutter downspouts away from home

Relieving water from footing drains that have no outlet and pitch with grade to daylight

Draining down pool water(required by some municipalities when installing a pool)

Separating grey water from septic tanks and leach fields if you have a septic system
If you have a septic system why should you consider a dry well?
The area you live may not offer a sewer service in your municipality leaving you with no option but installing a septic system. Septic systems have been around since the early 1860's when the first actual septic tank was invented using concrete and clay pipe. While humans have been improving sanitation over the last 3,000 years, it wasn't until the 1940's that septic systems became a common method of waste water management in many parts of the United States. A good functioning septic system relies on good bacteria to break down solids to liquid that in turn is removed through an over flow pipe. It is then discharged through the leach field to dissipate into the soil and and some of the liquid may evaporate from the surface as well. Heavy detergent agents used in your washing machine may kill off the good bacteria needed to sustain a healthy functioning septic system. Washing machines consume gallons of water during a wash cycle, as much as 50 gallons on older models. This will equate to massive amounts of unnecessary grey water into your septic system. By adding a dry well, waste water can be diverted from septic tank, greatly reducing the amount waste water into your tank and leach fields.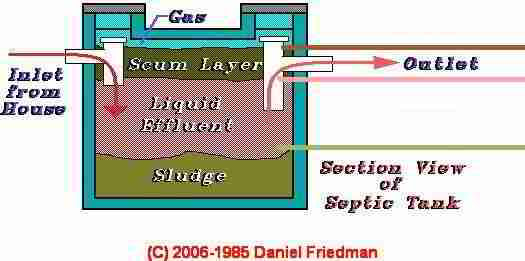 How a septic tank works:
Sewage both black and grey drain from all plumbing fixtures of your home into the septic tank. This is where heavy solids settle to the bottom where the bacterial action takes place producing enzymes to digest sludge and gases. The lighter solids, such as oils, fats and grease rise to the top to form a scum layer. Solids that are not decomposed remain in the tank. For a healthy septic tank to perform correctly, it is advised to have tank pumped out every 3-5 years.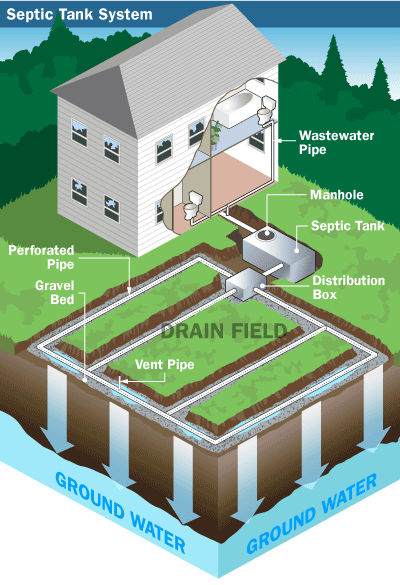 What is a leach field?
A leach field is a major component of a septic system integrated to remove and filter organic material from your septic tank. Leach fields are a constructed underground system of perforated pipes adjacent to your septic tank that allows waste water to dissipate into the soils and be filtered. Allowing sludge buildup in your leach field can result in complete failure of your entire system. This is a good reason to add a dry well to divert unnecessary excess water into your system.
Signs of a failing leach system:
Gurgling sounds in the plumbing system

Standing water and/or damp spots near septic tank or drain field

Bad odors around septic tank or leach field

Bright green, spongy lush grass over septic tank and/or drain field, even in dry conditions

Sewage backups into home
Now that we clarified how your home waste system works if you have a septic system and how a dry well can help in this situation, we can get back to basic drainage issues. A simple gutter may not seem like much of an ordeal and it may not be if a gutter extension is added above grade and runoff is sloped away from the home. In areas with lower topography that allows water to pool next to foundations can add to hydrostatic pressure and creates strain to your foundation and create possible water infiltration. In this case it is advised to excavate and install a buried line to remove any excess water away from your home to a safe location that won't effect other areas. These areas include locations on property that can contribute to ice buildup in winter or onto neighbors property. If you have proper grade to relieve the water to daylight, do so, if not you may need a dry well installed.
All drainage components used on a property and/or home require an outlet somewhere. If the grade of property doesn't allow for proper distribution of water away from home, a dry well installation may be inevitable. Another thing to keep in mind when installing a new roof or your existing roof is to inspect gutter system for proper function. Calculations can also be made to determine the volume of liquid consumed into the gutters and downspouts. This can help when choosing the size of dry well to install. All weather systems are different with a far range of liquid carried, so it is better to always go bigger than necessary especially when combining different drainage systems into one.
Determining whether or not you may need a dry well should have been explained here but hiring a drainage professional can help guide you through the process fairly easily. Water is one of Mother Natures strongest forces that is responsible for trillions of dollars in damages a year around the world and by determining the source and rectifying the the issues before damage is done is key.