Do you need a new roof?

These are some common sign for roof replacement:
Algae growth on shingles

Damaged flashing

Buckling of sheathing under shingles

Curling of shingles

Blistering of shingles

Missing shingles

Ceiling spots inside your home

Missing granules on shingles

Evidence of rotting

Here in the northeast we experience some pretty gruelling winters that put our homes roof to the biggest test. What is under your roof shingles makes a huge difference.
Proper use of Ice & Water Barrier Products, plus insulation and ventilation, help prevent - a major culprit when it comes to roof leaks.
What is an ice dam?
A ridge of ice that forms at the edge of a roof and prevents melting snow from draining off the roof.
What causes an ice dam?
Ice dams form when indoor heating rises through the ceiling into the attic and warms the roof surface.
How do they form?
Snow on the heated part of the roof melts and flows down until it meets the part of the roof that is below 32 degrees. At that point, the water freezes into an ice dam.
How do ice dams lead to water damage?
Water backs up behind the dam and, as it sits on the roof, works its way under the roof covering and flows into the attic. From there it can seep through insulation, ceilings, walls and other areas where it can cause damage.
How do you prevent an ice dam?
Keeping a consistent attic temperature can help prevent ice dams. Insulation and ventilation are key components of maintaining the proper conditions in the attic and on the roof deck.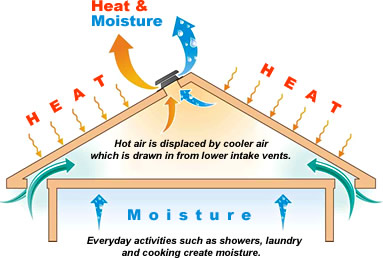 Proper roof ventilation systems:
Soffit vents

Gable vents

Ridge vents

Attic fans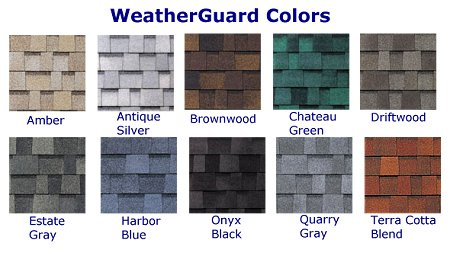 Why Owens Corning?
Since 1977, Owens Corning has been a leading manufacturer of shingles and accessories for the residential roofing market. Though best known for our PINK® Fiberglas insulation, Owens Corning is also a leader in the roofing market.
In fact, according to a Hanley-Wood Publishing survey of 3,400 U.S. builders, Owens Corning Roofing products were voted "the most recognizable brand in the market."
Since Owens Corning invented glass fiber during the 1970s, it has become the material standard for shingles, and is used by most shingle manufacturers. The fiberglass composition of roof shingles plays an important role in protecting homes from moisture and other weather-related elements.
We take great pride in our roofing shingles and accessories and we believe that we have a great deal of responsibility to homeowners. That's why we make sure every Owens Corning shingle meets your high expectations.
Every shingle we make combines consistent quality with long-lasting beauty and maximum protection. Performance is at the heart of every Owens Corning roofing product.
Every Owens Corning shingle line features:
Fiberglas® mat that adds weather protection, greater fire resistance and longer life.

Weathering-grade asphalt that holds the granules on the shingle and protects the roof from water.

Colorful mineral granules that help reflect the sun's rays while adding beauty and style to the roof.

Heat-activated adhesive strip that bonds shingles into a single, watertight unit.

Class A Fire Rating, the highest available for residential applications.

Wind Resistance Rating for winds and gusts up to 110 mph depending on the shingle style selected.

Limited product warranties ranging from 20 to 50 years, depending on shingle style.