Made from a water-soluble base, latex paint combines the advantages of versatility and easy clean up. It applies smoothly and wears well in both interior and exterior use. Latex paint can be thinned with water, and equipment or spills can be cleaned up simply with soapy water.
Latex paint is non-toxic and has less of an odor than other paints, such as oil-based paint. When used indoors, fumes from oil-based paint may linger for several weeks. On the other hand, odors from latex paint dissipate quickly after the paint has dried. Of course, adequate ventilation is always necessary when painting indoors regardless of the type of paint used.
In addition to being non-toxic, latex paint is non-flammable. Oil-based paint and the solvents required for thinning and clean up are highly flammable. Those solvents, along with the oil-based paint itself, are considered toxic waste and must be disposed of according to local regulations.
Latex paint is much more environmentally friendly than other paint types. It is not considered hazardous and may be disposed of with regular waste. Liquid oil-based paint or solvents should never be disposed of in the regular trash or poured down a drain. However, both oil-based and latex paints may be acceptable for recycling if handled according to the requirements of the recycling center.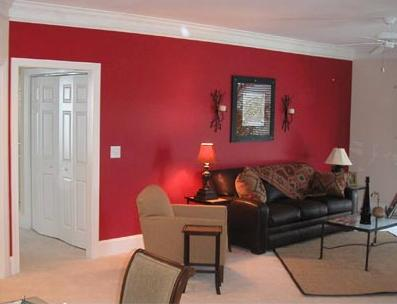 In general, latex paint tends to have better gloss and is easier to touch up than oil-based paints. However, the higher the gloss of the finish, the more imperfections will show. Also, higher gloss finishes tend to be more difficult to touch up than finishes with less shine whether or not latex paint is used.
Advances in latex paint have resulted in less fading on exteriors, no yellowing on interiors, and less likelihood of cracking or peeling. Another major advantage to latex paint is its faster drying time. If a second coat of paint is required, there usually is no need to wait more than an hour after the first coat. Oil-based paint takes up to 24 hours to dry depending on factors such as weather conditions and air circulation.
WMB Construction mainly uses latex paint in most applications. The acrylic resins in todays latex paints and stains offer excellent adhersion and durability with a quality application.

Quality long lasting paint jobs are always contributed to a professional surface preparation and application. Without the proper steps taken, no paint oil or latex will adhere.
Tips for a quality job:
Clean surface to be painted very good
Powerwash exterior surfaces
Treat mold and mildew problems
Replace any rotten wood
Caulk all seams
Use a good product like Benjamin Moore
Always apply two coats
Add "Emulsabond" to paint for added adhersion for problem areas
Where oil paint/stain is still used:
New wood

Transparent and semi-transparent applications

Stain killers

Metal applications
WMB Construction specializes in:
Interior and exterior painting

Sheetrock repair

Siding repair

Powerwashing