TimberTech products add beauty to homes, businesses and resorts. What's more, TimberTech is low maintenance, safe, durable, and can even increase the value of your home.

Low Maintenance
TimberTech maintains its color and beauty for years without the work of painting, staining or sealing. And, because it resists mildew, warping and insects, there's no need to replace rotting, uneven or termite-damaged boards. This saves time and money over the life of your deck and fence. Caring for TimberTech is easier than wood and will allow you to focus on maximum enjoyment instead of maximum maintenance.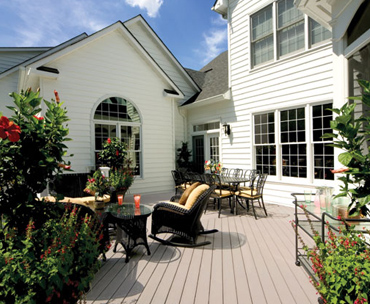 Warranty
TimberTech's 25-year limited residential warranty is best-in-class. TimberTech's warranty offers 25-years of coverage, that isn't pro-rated, for residential installations. And our warranty can be transferred to a second homeowner – a great selling feature when you're ready to relocate. So the first, and second, TimberTech product owners can have peace of mind that their outdoor oasis will look beautiful year after year. For commercial applications, TimberTech offers a 10-year limited warranty for worry-free beauty in high traffic situations. And in the unlikely event that you'll have to contact us for warranty assistance, we separate ourselves from the competition by placing high priority on top-notch customer care after the sale.


Industry-Leading Products
TimberTech offers a complete line of low maintenance outdoor building products that are durable and made with high quality materials. We listen to our customers and create products that offer a wide variety of color choices and styles, designed to fit your life and design preferences. From traditional wood-plastic composite planks to PVC decking material; from railing and lighting to under deck drainage systems and fastener-free installation options, TimberTech is your one-stop for outdoor living building products.

We're driven by innovation and have award-winning, industry-recognized, top-selling products to prove it! TimberTech was the first alternative decking manufacturer to introduce a railing system with black as a color option; TimberTech was the first alternative decking manufacturer to introduce a deck plank with a Class A Flame Spread Rating in fire resistance testing – the highest rating available; and TimberTech was also the first alternative decking manufacturer to introduce a patented lighting system specifically created for its railing and fencing systems, providing the best fit and finished look. And if we weren't first, we look at the products up and coming in the industry and we make them better!

You can rest assured you're buying from a leading, global manufacturer and expert in the industry when you buy TimberTech!


Increases the Value of Your Home
TimberTech not only adds value to your life, it adds value to your home. When you add a TimberTech deck – or use TimberTech to replank a wood deck – you'll recoup much of your investment when you sell your home. Remodeling Magazine's 2009-2010 Cost vs. Value Report estimates a national average of 71% return on investment for composite deck additions*. This is a similiar or better return on investment than projects such as bathroom addition, bathroom remodel and major kitchen remodel. To maximize your return, Realty Times suggests using a non-rectangle design, and making your deck an extension of your living space.
*Based on a 16′ x 20′ deck set in simple linear pattern; using pressure-treated joists supported by 4x4 posts anchored to concrete piers; built-in bench and planter of the same decking material; stairs, assuming three steps to grade; complete railing using a matching system made of the same composite as the decking material