Your bathroom is old and outdated? You might be thinking about a quick sale or a quick fix? The thought about price and upsetting your home has you considering a quick fix? A quick fix isn't always the answer and you might just be throwing your money down the drain. You might want to consider a full bathroom remodel that will add more value to your home and more peace in mind that all mold and mildew has been removed. Within 1-2 weeks you will have the bathroom of your dreams!!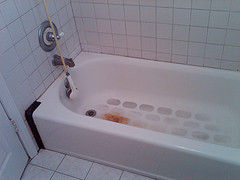 Rebath is a franchise company that promises to reface your bathroom by covering up your old tub and shower walls. In the picture above, Rebath came for an estimate to put a cover over this old deteriorated tub. Thats like putting a cap over a rotten tooth!
Top reasons not to use Rebath:
Mold and mildew will be trapped and left to keep growing inside your walls and floors

Any rotted wall studs and/or flooring cannot be detected and will just be covered

Walls will eventually start to come loose as the adhesive breaks down

Rebath is not cheap! It is probably the most expensive recycled plastic out there!

The end result is always a cheap look. You can spot a Rebath install a mile away

Tubs and shower bases become smaller after capping

This is a before and after picture of a Rebath installation. I can see why people would like the idea because it gives instant gratification but most people aren't aware of the downfalls.
Besides appearance, what you don't see:
Ceramic tile almost always has a glossy surface. Even the best adhesives have a hard time staying adhered. The walls will eventually start to pop off.

New divertor was changed from a three hand diverter to a single hand diverter. Thats fine, the only difference is that it should have been moved up another foot minimum. As water hits your body it will tranfer onto the diverter at the lower height and eventually penetrate into your wall creating mold and mildew.

The new drain was installed with a pop up. Your trip lever was discontinued and now if you want to take a bath you must push down on the drain. The only problem with this is that your old drain had a strainer cover on it for catching hair and other debris from entering your drainage system. Now your drain is wide open so look for major issues down the road.

Notice you have lost any shelving and soap dish. They may equip you with a cheap built in shelf.

The rest of your bathroom is still old and outdated so now you will still have to upgrade all the contents.

Here is another Rebath cover up job. Makes you cringe to think all that mold, mildew and bacteria is still living under your new tub. Don't be fooled, these installations are nothing more than a quick cover up job.
Benefits of a full bathroom remodel:
All of your old moldy and mildew contents are removed down to the studs

New fiberglass insulation is installed and brought up to current R-values

All your plumbing valves are changed inside the walls

Electrical is updated and extra lighting can be installed

Shower area walls, cement board will be installed and new moisture resistant sheetrock on the rest of the walls and ceiling of bathroom

Opportunity to add in wall shelves or recessed vanity

Freshly painted walls

Opportunity to notice any unseen problems
Newly renovated bathroom with WMB Construction