Here in the Northeast we can experience some pretty grueling weather during the winter months. With snow storm after snow storm the accumulating totals keep increasing. Take two feet of snow on your roof, add freezing rain and temperatures that keep rising and falling and you have the perfect ingredients for a mid-winter disaster. That creaking and groaning you may be hearing is not your husband/wife but your roof buckling under tons of winter weather. Roofs built with a pitch can withstand much more weight than flat roofs. Now not to panic, your roof should not be falling any time soon and there isn't much you can do about it. Some people try to shovel the snow and break up ice damming on their roofs but I don't recommend it. It is a very dangerous practice and most of the time you will create more damage to your shingles, leaving you with more headaches when the snow melts.
A few tips if you decide to clear the snow off your roof:
Don't try to remove snow alone. In case you slip somebody can help.
If you use a metal rake or metal ladder, stay clear of power lines.
Shovel snow down the roof and not up preventing damage to the shingles.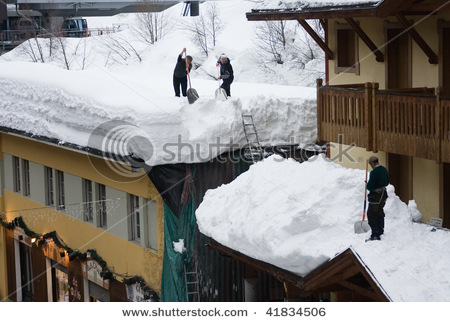 In the fall months you should be preparing for winter ahead of time. Precautions can be taken to prevent ice damming on your roof. The biggest concern with winter snow on roofs is the damage from ice damming. The penetration of water into your home can create all sorts of damages from electrical shorts to mold and mildew issues.
How to prepare your roof for winter:
Clean your gutters.
Install heated electrical lines on your roof designed for melting off ice dams.
Install ridge vents to prevent heat build up in attics.
Install new roof with ice dam underlayment.
Make sure you have adequate insulation in your attic.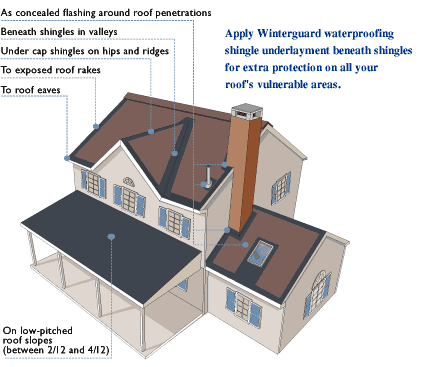 Installing a new roof with ice dam installed is your best bet in preventing ice damming from occurring.
With a new roof you gain all of these ice fighting features:
Ice dam material installed on roof decking.
Aluminum drip edge to prevent capillary action.
Ridge vent to prevent attic heat build-up.
30 year architectural shingles with higher wind ratings and added durability.
Peace in mind.