You shower, bathe, and take care of all your basic needs in your bathroom. It is the one area of your home where you can relax and create a surreal enviroment. Whether your prefence is a hot shower or a warm bubble bath to loosen your muscles, the bathroom is the room that will bring relaxation and comfort to your own home.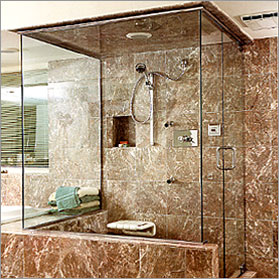 A bathroom remodel might be an excellent choice for you and your family. A bathroom remodel is more than just an enhancement, it is an added investment to your home.
Bathroom remodel benefits:
Instant added value to your home

Removal of all toxic mold and mildew

Enhanced appearance

Create a relaxation area for after those stressful work days

Create better use of space in your bathroom. Integrate elegant pieces of furniture or extra closets for more useful storage

Many concerns my customers have are; how long and what is involved with a full bathroom remodel. All bathrooms are different as far as size, water damage, age, tilework involved, plumbing, etc.....
What to expect in a bathroom remodel:
First day is full removal of bathroom contents. Drop clothes are placed throughout your home to maintain cleanliness.

Next day plumbing and electrical is performed and new walls start to be installed.

Tile, paint, fixtures, grout, etc...... are all installed.

Standard start to finish for a bathroom remodel is 1 1/2 weeks.

Everyday your home will be cleanly vacuumed and drop clothes removed so you and your family can maintain regular life.

For homes with only one bathroom, Porta-Potty arrangements can be made.