Therma Tru entry door systems are the brand that most builders and remodelers prefer. They offer a wide variety of door choices and performance packages that are unrivaled in the industry. By installing a Therma Tru entry door system you should expect to see an increase in comfort, energy efficiency and performance; not to mention an increase in the perceived value of your home.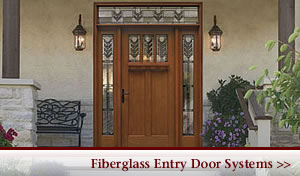 Since pioneering the fiberglass door industry in 1983 Therma Truredefined the industry with high style, high performance products. Before then the only door options were steel and wood. While steel and wood doors are still widely used today, fiberglass doors have been up and coming due to their durability and low maintenace.

A few reasons to consider a fiberglass door:
Fiberglass will not rot or rust.
Fiberglass will not dent.
Therma Tru offers Accugrain technology for their fiberglass line which is a door casting process that gives you the beauty of a natural wood door without the maintenance.
Therma Tru has a line and style to fit any budget. WMB Construction has been installing Therma Tru entry doors for years and strongly stands behind Therma Tru products. Allow us to work with you on your next remodel.