If you might not already know, installation of crown moulding should usually be left in the hands of an experienced carpenter. Out of all moulding applications, crown can be the most confusing. Even most carpenters rely on the caulking gun to achieve the appearance of a tight mitre. Most ceilings are not perfectly level and/or square and this is where a qualified installer is necessary. Installations where stain is to be applied to natural wood instead of paint requires a professional installer that knows and understands the aspects of wood.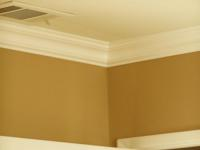 Here are some quick tips to a quality crown moulding installation:
A mitre box equipped with crown moulding braces is the best possible feature on a mitre box. It ensures a proper and exact cut from piece to piece in that crown moulding is not cut flat but on a 45 degree angle.
When cutting inside corners coping creates the best and tightest seams. Coping is performed by hand with the use of a coping saw.
When installing crown mouldings, apply construction adhesive to top part of moulding where moulding meets ceiling. This eliminates any questions of crown moulding sagging from ceiling in the future.(without adhesive it is sure to happen where nailing into ceiling joists are not present.
Hope article will help you on your next remodeling project.