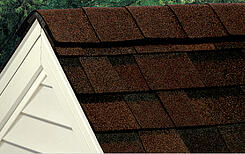 Across the United States the three tab shingle has widely been replaced with architectual shingles which offers a better look to your home as well as many more features. Call wmbconstruction for your next roofing project.
Five key factors you should know:
Architectual shingles carry a standard 30 yr. life span which can be upgraded to 50 yr. as opposed to a 20-30 year life span.
Architectual shingles have higher wind ratings which means less to no more blow offs.
Quality starts under your shingles. The first part of your roof that is extremely important and commonly overseen is aluminum dripedge. Aluminum dripedge is installed around the entire perimeter of the roof to eliminate capillary action of water coming back up into your house.
Next is ice dam material which is installed along lower edges of your home and three feet up to prevent winters harshest toll on a roof, ice damming. Ice damming is when snow begins to melt on your roof over the heated sections of your roof, when it hits the unheated sections(soffit area)it begins to freeze causing water back-ups back inside your home. Ice dam material greatly reduces the possibilities of this occurance.
For the longevity of your roof, ventilation is key. There are three factors in roof ventilation; gable vents, soffit vents, and ridge vents. With all three vents installed you will have the necessary airflow in your attic to get the most years possible out of your roof.