Bathrooms are one of the most frequented rooms in your home, a room that takes care of all your essential needs everyday of the week and year. But year after year your bathroom may become deteriorated or completely unusable. A very common problem within bathrooms is mold and mildew growth, most of what you can't see. Other competitors like Rebath or Bathfitters offer a cheaper alternative of capping your existing tub and walls locking in mold and mildew!!!

In comparison, its like capping a rotten tooth and covering the problem.

This is a customers tub that the competitors wanted to cap. Could you imagine hiding this mess by simply capping it?!?! Also when capping a tub your inside dimensions become smaller leaving less bathing room.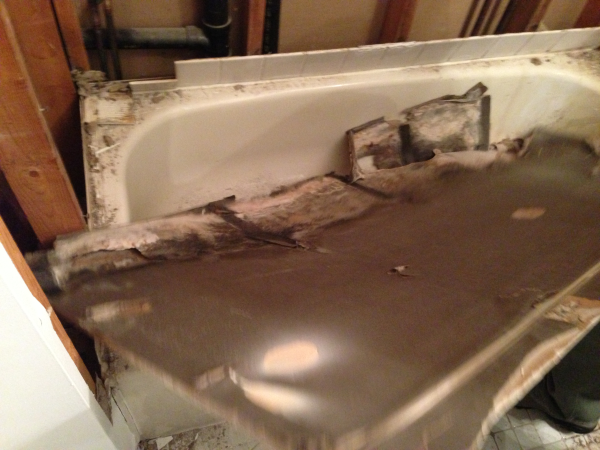 This is what we found hidden behind tile walls! Loaded with mold and mildew and hidden for years! What happened here is the old sheetrock walls absorbed the moisture and started to grow in a dark and damp atmosphere. Mold and mildew allowed to grow can take over an entire house leaving it unlivable and without value!This is the steel tub we removed. Hidden under drain was the evidence of a rotten tub! Steel tubs are the cheapest tub you can install and will always rot out in the drain area. Thank god we caught this one in time before it started to leak causing thousands in damage. Another reason to rethink capping your tub!!!With a tub removal you expose all the ailments that need to be removed! This was mold and mildew under the tub. We treated it with bleach to kill it and a sealer. If capped it would keep growing for years!WMBCONSTRUCTION removed the shower walls/tub completely and installed a new 4 piece maintenance free shower/tub! In two days the customers were up and running! All the mold and mildew was removed and not capped!!
What is the advantage of tub removal:
Removal of any mold and mildew

New tub and new trip lever/waste

New divertor in wall

Peace in mind that you family is safe from harmful mold